Streets of Fight
A downloadable asset pack

This is a Complete Assets Pack to develop a Beat'em Up game in the Style of "Streets of Rage". Feel free to use it on your own personal or commercial projects.
The height of the Stage is 240 px
The Height of the sprites is 47 px
Features

Stage Tileset
Parallax background
Foreground elements
Props
Female Player character with 9 different animations
Punk Enemy with 4 animations
Related Packs
Download
Click download now to get access to the following files:
Streets of Fight files.zip
287 kB
Comments
Log in with itch.io to leave a comment.
Hey man, I've been making a mini-game to use in my portfolio and I've used your art assets.
Here's where I'm up to with it:

I've been focusing on the sound effects/camera/other stuff for this mini-game - eventually I'll include the fighting :D
Now with some actual fighting!

Cool! I love to see the assets in action. Keep the good work!
It's slower progress now, but coming along, refining things. I still haven't setup the boss yet :D. No jump kick, cans, or specials either ><

the figures on the floor are a funny touch. Keep the good work!
Streets of Rage - Fighting in the Street song started playing in my head. amazing work, as usual!

Aw, that's lovely!
There's just one thing that somehow feels out of place to my eye: that foreground green bush.
I'm no artist but maybe the style is different? I was probably expecting something with more contrast, more black, and more rim-lighting?
Maybe I'm just picky, or got obsessed with that detail :D
...or maybe it's because of the palette and colour count. But again, maybe I'm just obsessing over that detail :D
Loving the pack! It really gets the right vibe!
(still, that bush really bothers me, apologies :D :D )
Thanks for the feedback. Fortunately, the bush can be removed easily.
I do see how the green bush pulls the eyes in. Can easily be fixed using the same colors. like I've done here.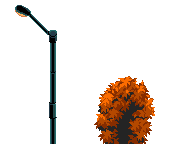 Great job! Just an observation: for the girl, the "Hurt" animation is the "Jumpkick" animation
Wow, Thank you very much! I want to use this asset for my project soon.
hell yes! your assets are all awesome, but this one makes me wanna do a backflip. only i can barely get out of my chair anymore, so i will just do a mental backflip.